Request Appointment
Contact our office today to schedule your appointment with Dr. Vasu, and start your journey toward a better smile.
Request Appointment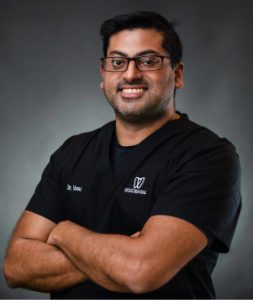 Srinivas Iragavarapu, DMD, MS
Dr. Vasu is a general dentist serving the Capital region and the surrounding communities. Originally from South Florida, where he was born and raised, Dr. Vasu attended Tufts University Dental School in Boston, MA, and later completed residency training at Westchester Medical Center in Valhalla, NY. There he received expert training on advanced surgical techniques from renowned oral and maxillofacial surgeons. It was during his time in residency he realized how much he loved New York and decided he wished to settle here and raise a family. After working as an associate at several dental offices around the state, he eventually decided to relocate to the Capital region, realizing its the beauty and charm.
His interest in dentistry started many years ago when he was observing his own dentist in Florida. He understood then dentistry is a unique amalgamation of art and science. Over the past fifteen years, he has taken hundreds of hours of continuing education to continually be at the forefront of the field and to deliver the best, customized care to his patients. He is actively engaged with the American Dental Association® and the local Third District Dental Society. What really sets his office apart from others, however, is the value he place on personally knowing his patients and building long-lasting relationships. While he understands delivering outstanding service is critical, ultimately, he is treating people and thus employs a patient-centric approach. His world class staff shares the same philosophy thereby ensuring a warm, pleasant and engaging dental experience. Furthermore, he embraces technology and innovation and has spent considerable effort ensuring his office has adopted all the latest advances.
Outside of dentistry, he is an avid car enthusiast who has a deep appreciation for just about all makes and models of all eras and loves attending car shows. As a resident of East Greenbush, NY, he also loves the outdoors and often rides his bicycle on the Empire State Rail Trail and goes on hikes in the Catskills and Adirondacks with his lovely wife, Anjali, and his beautiful five year old son, Krisav.
Meet Our Team
At 1021 Dental, our team is always ready to serve you in any way possible. We want you to feel like you can count on us for your dental care in Albany, New York, and will take care of you during your visit with our dentist. We invite you to call 518-482-1021 to speak with a team member about scheduling your appointment, or for any questions you may have.
Jessica joined the practice in 2023. She graduated from Hudson Valley Community College (HVCC) in 2000 and later graduated with a bachelor's degree in dental hygiene from Farmingdale State University in 2020. She is a lifelong learner who is continually educating herself for the better of her patients and is dedicated to continual education and health promotion. She loves meeting and following up with loyal patients and working with an excellent team. Jessica is the mother of two children (Jacob, age 26, and Jadyn, age 17). She loves the outdoors, and enjoys biking, hiking, swimming, cooking and visiting the national parks of America in her free time.
Vihjal became a part of our practice in August 2023. participated in a one-year program through Votec and has several years of experience of teaching four hand dentistry. He also has business management experience for K-mart. He appreciates how everyone is compassionate and cares deeply about our patients. Vilhjal contributes to the practice through patient education. In his free time, he enjoys hunting, fishing, and working out at the gym as well as playing and coaching soccer.
Danielle joined 1021 Dental on August First, 2023. She completed her Alternative Dental Assistant Program (ADAP) at Hudson Valley Community College (HVCC) and is constantly learning new things through continuing education courses. She has a wonderful personality and assists patients with compassion in a welcoming atmosphere. Danielle enjoys the outdoors.